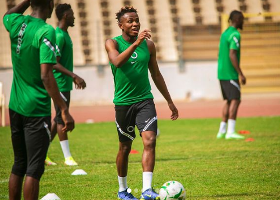 The threat posed by Liverpool's Egypt winger Mohamed Salah has dominated the headlines ahead of the Super Eagles mouthwatering clash against the North Africans in their Africa Cup of Nations opener on January 11.

Salah has been in sensational form so far this season, directly participating in 32 goals (23 goals, 9 assists) from 26 appearances in all competitions.

The 29-year-old has also impressed on international duty by providing three assists for his teammates during the World Cup qualifiers.

Super Eagles captain Ahmed Musa namechecked Villarreal young star Samuel Chukwueze as he discussed the wingers in the Nigeria side he thinks are more dangerous than Salah.

The 2013 Africa Cup of Nations winner underlined that there are more experienced players in the Super Eagles squad for AFCON 2021 compared to the last tournament in Egypt where they had only two players with Africa Cup of Nations experience.

"Experience is going to help us a lot. In Egypt we had only two players that had been in the AFCON, me and Kenneth Omeruo, and then we finished in the third position," Musa said.

"With that experience that we have, this is not World Cup but African football, you have to keep that fantastic football at home, you just have to go all out.
"With the experience that we have in Egypt I know we are going to do what everyone is expecting us to do."
Musa continued : "Definitely, I know everybody will be talking about Salah but if you look at our own side we have a lot of players they would be worried about.

"Definitely we don't have to think about Salah, they have to think about own players. They only talk about Salah but we have Chukwueze, a lot of players from the wings that are more dangerous, so their own defenders too will be thinking about us."
Chukwueze, who reported for international duty on Wednesday, participated in the Super Eagles' final training session before they headed out to Cameroon.