Says real insurrection took place during the 2020 election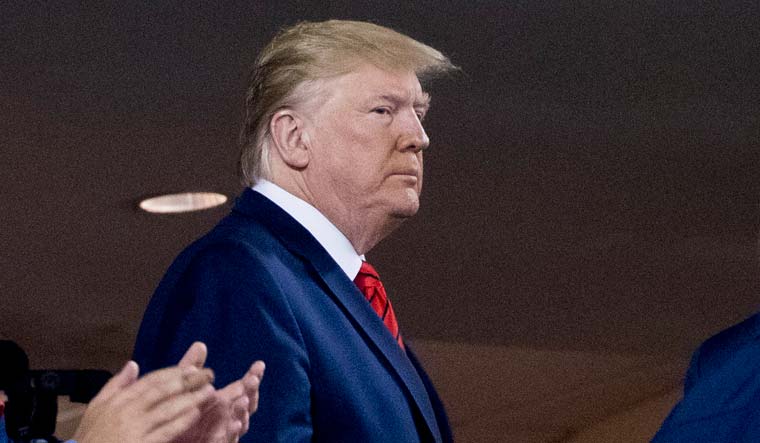 The bitter war of words between US President Joe Biden and his predecessor, Donald Trump, continued on the first anniversary of the Capitol riot on Thursday.
In a speech at the Capitol to mark the violence, Biden accused Trump of spreading a web of lies on the result of the 2020 election.
Trump soon hit back at Biden, via statements on his website. Trump continued to attack the legal validity of the election, saying the Democrats had "tried to stop the peaceful transfer with a rigged election".
Trump questioned Biden's performance in individual states, contrasting it with the performance of former president Barack Obama. "Does anybody really think that Biden beat Obama with the Black population in select Swing State cities, but nowhere else? That he would lose 18 out of 19 bellwether counties, and 27 out of 27 'toss up' House races, but somehow miraculously receive the most votes in American history with no coattails? That he would lose Florida, Ohio, and Iowa and win, even though it has never been done before?" Trump said.
Trump reiterated his allegation that "Big Tech"—referring to major technology companies such as Facebook and Twitter—was "used illegally" in the election. Trump alleged ballots were sold in Georgia, Pennsylvania, Arizona and Wisconsin—all states Biden won.
"He [Biden] acts like he's aggrieved, but we're the ones who were aggrieved and America is suffering because of it with poisonous Borders, record Inflation, a humiliating surrender in Afghanistan, $5 a gallon gas and higher, empty stock shelves, and rampant crime. America is a laughingstock stock of the world, and it's all because of the real insurrection, which took place on November 3rd," Trump said.
Trump accused Biden of "destroying" the US with his policies on open borders and energy. "This political theater is all just a distraction for the fact Biden has completely and totally failed. Our Country no longer has Borders, has totally and completely lost control of COVID (record numbers!), is no longer Energy Independent, Inflation is rampant, our Military is in chaos, and our exit, or surrender, from Afghanistan was perhaps the most embarrassing day in the long and distinguished history of the United States," Trump said.
Trump argued everything Biden touches "turns to failure". "That's what you get when you have a rigged Election," the former US president said.